Pumpkin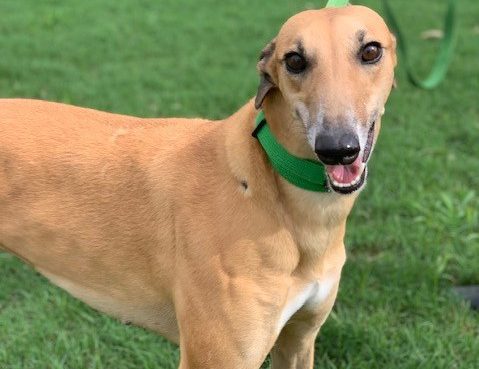 Adoption applications are now open for Pumpkin.
Pumpkin has an exuberant personality and loves life! As she sometimes forgets her manners, she is not suitable for a home with children. Pumpkin has been working very hard here with the GAP staff on being a polite dog but would benefit from continued training and gentle reminders to keep all 4 feet on the ground. Pumpkin is best suited as an only dog where she can be the centre of someone's world.
A GAP favorite, Pumpkin would find a home where she can have at least 2 walks a day and be part of the household.
If you are interested in adopting Pumpkin submit an adoption application form and our adoption officer will contact you to discuss your family's requirements and match you to your GAP greyhound.
Pumpkin may be matched to her retirement home, however, greyhounds can be at different stages in their development as they transition to pet life.  The greyhound that is perfect for your family might take some time, complete an application form we will work hard to find the right GAP greyhound for you. More information is available on the adoption process.
Our greyhounds are not tested with cats, livestock, or poultry. If you have a home with these, please contact us and we will match you with the right greyhound for your circumstances.