Bear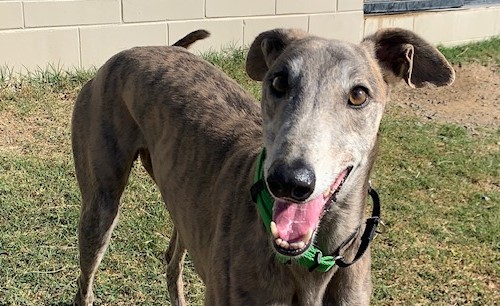 G'day, my name is Bear. I am a fairly easy-going dude looking for a family to call my own. I enjoy playing with my toys; my favourite is my fluffy emu toy. When I am not doing my crazy zoomies, you will find me curled up on my bed snoozing away. I know my family will sometimes have to leave me alone and I'm okay with that. However,  once they are at home, I would like to keep them company while they watch TV or read a book. I love to be included in family activities. You'll be happy to know that I have lovely manners.
I would be quite happy sharing my home with a quiet and calm dog that will give me my own space at times. I would like to have a family with teenage children, a couple or someone living on their own looking for a companion. I would like my home to be quiet and relaxed to help me settle.
If you are interested in adopting a GAP greyhound, please complete the adoption application form.
Our dogs are not tested with cats, livestock or poultry. If you have a home with these, please contact us and we will match you with the right greyhound for your circumstances.