Denozo – adoption applications now open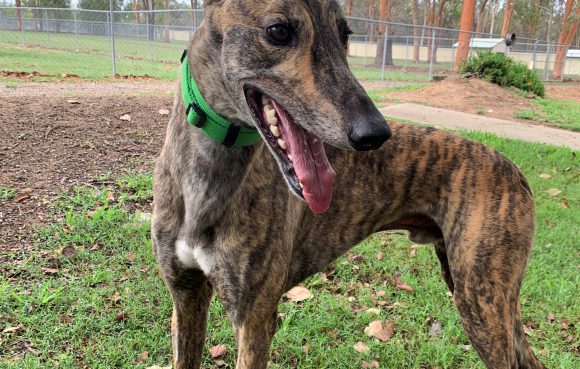 Race name
Strut Your Stuff
Denozo – adoption applications now open
Denozo is generally a pretty easy-going boy. He is confident to be left at home and entertain himself with his own company and solo exploring. Denozo loves to greet new friends and is always up for a hello and a pat.  As a quiet and sensitive soul, he would benefit from a calm home in a quiet environment.
Denozo likes his toys and is always up for a game. He loves a game of chasey would love a large yard for his zoomies and toy play.
While at the GAP he has been working hard on his doggie social skills.  Denozo is making progress, he needs to continue his ongoing training and practice in a controlled and calm environment. His new family will need to commit to his ongoing training.
As he is a very bouncy boy with no idea of his own size, a home without small children would be preferable. He requires 6-foot fences to ensure he is kept safe and contained in his yard.
More information is available on the adoption process and if you are interested in adopting Denozo submit an adoption application form and our adoptions officer will contact you to discuss your family's requirements and match you to your GAP greyhound.
Our greyhounds are not tested with cats, livestock, or poultry. If you have a home with these, please contact us and we will match you with the right greyhound for your circumstances.