Hans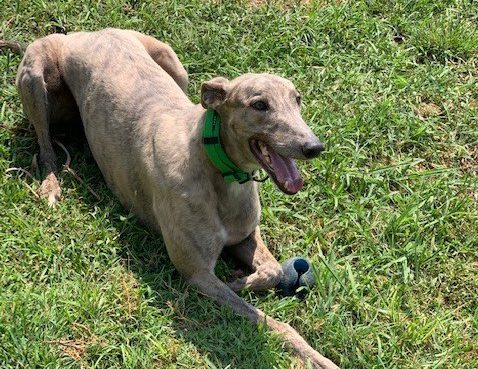 I am an energetic young lad still learning about the big wide world. I love to play games and will chase the ball for around 20 minutes before I call it a day, and then I look for a comfortable spot to lay down and recharge my batteries before its time to do it all again. I am a big strong boy so would suit an experienced dog owner who is used to big dogs.
I enjoy getting out and about for my daily walks, and my favourite thing to do is to walk along the beach and paddle in the ocean. I am progressing well with my lead manners and learning to be patient before I get my dinner. I would cope quite well being on my own but would enjoy having someone who would include me in their adventures. I would like to have a family with children aged 10+, a couple, or someone living on their own, that perhaps only works part time.
If you are interested in adopting a GAP greyhound, please complete the adoption application form.
Our dogs are not tested with cats, livestock or poultry. If you have a home with these, please contact us and we will match you with the right greyhound for your circumstances.