Mr Darcy & Miss GiGi – bonded pair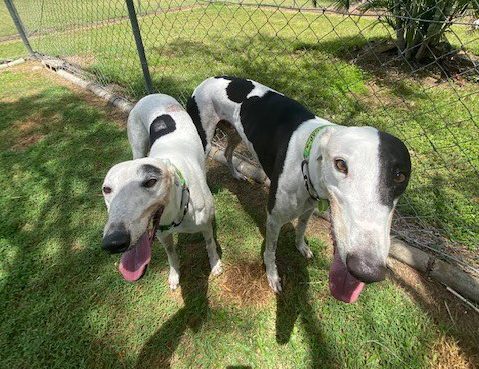 Race name
Harbour Reign (Darcy) & Kalgoorlie Girl (GiGi)
Meet our sweet couple Darcy & GiGi. They have been together their whole lives and are a bonded pair.
Darcy is a real gentleman and he just loves a cuddle. He will follow you everywhere and has a super chilled out personality.
GiGi is a quiet little lady and she loves to go for walks. She can be playful and enjoys playing with the ball, and will sometimes bring it back to you.
Darcy and GiGi need to find a quiet home together, a home that can offer them daily walks together and lots of cuddle time.
If you are interested in adopting a GAP greyhound, please complete the adoption application form.
Our dogs are not tested with cats, livestock or poultry.
If you have a home with these, please contact us and we will match you with the right greyhound for your circumstances.