Nicole – adoption applications now open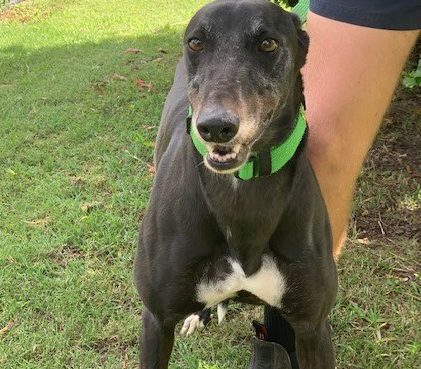 Nicole – adoption applications now open
Nicole is a bright and bubbly lady who is looking for someone who will have space for her zoomies and take her for daily walks. She is easily excited and sometimes forgets her manners so would be best suited to a home where she can be the centre of attention and take her owner along to some training classes.
Playing with toys brings a lot of joy to Nicole. When chasing toys, Nicole often ends her play with zooming and spinning on the spot or a combination of both! She certainly has a zest for life and would love to join a family who can match her zest.
All the excitement can lead to jumping up and forgetting to be polite so a home without small children is most suitable.
Nicole would be fine as a single dog as she sometimes gets overwhelmed with other dogs. She also enjoys her personal space as long as she has some toys to occupy her time.
More information is available on the adoption process and if you are interested in adopting Nicole submit an adoption application form and our adoptions officer will contact you to discuss your family's requirements and match you to your GAP greyhound.
Our greyhounds are not tested with cats, livestock, or poultry. If you have a home with these, please contact us and we will match you with the right greyhound for your circumstances.