Pauly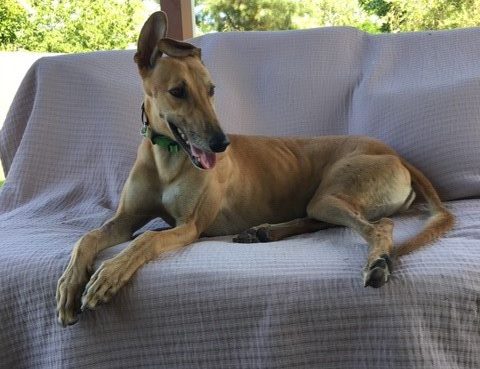 He a big boy, but despite his size Pauly is very careful not to knock things over in the house and wont bump into you when he is playing. He loves a walk and is happy to do 5kms or 1km as long as he is out and about with you. He has no strangers in his life, just people he hasn't met yet.
Pauly has brushed up on his walking skills and can now walk nicely on lead and in a straight line. His foster mum is very patient and said he has mastered it now. Pauly likes to carry the dog beds around the house, and has even stolen a few cushions, but will never chew them up. He  is a sensitive soul but a quick learner.
Pauly would be happy to share his home with older children and would be happy with a canine companion, so long as they were patient with him, as he is still learning his doggie manners and how to play gently. Pauly has met many dogs of all shapes and sizes and has been a real gentleman.
If you are interested in adopting a GAP greyhound, please complete the adoption application form.
Our dogs are not tested with cats, livestock or poultry. If you have a home with these, please contact us and we will match you with the right greyhound for your circumstances.