Percy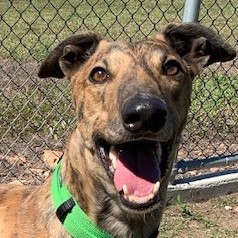 Percy is an energetic goofy boy who enjoys plenty of fun and is still really a puppy at heart.
He is an active dog so will need daily exercise and lots of playtime with his toys.
Percy loves nothing more than to chase after his bouncy ball, throwing it up in the air, and has even learned to bring it back, when it suits him.
After Percy has burnt off some energy, he enjoys cooling off in his clam shell pool filled with water, splashing around, followed by a few crazy zoomies, before curling up on his bed to recharge his batteries ready to do it all again. Percy enjoys his daily enrichment activities and is learning nice manners.
Percy would enjoy having a medium to large sized canine companion that can match his energy levels, or would also enjoy being the only dog, as he would be happy to entertain himself while you were out.
As Percy is a big boy, and sometimes does not realise his size, he would suit a family with older children that would include him in their family adventures, an active couple, or even someone living on their own who would take him for daily walks. Percy would need an experienced dog home so he can continue to learn polite manners and to show him how great retired life can be.
If you are interested in adopting a GAP greyhound, please complete the adoption application form.
Our dogs are not tested with cats, livestock or poultry. If you have a home with these, please contact us and we will match you with the right greyhound for your circumstances.