Pickles and Jess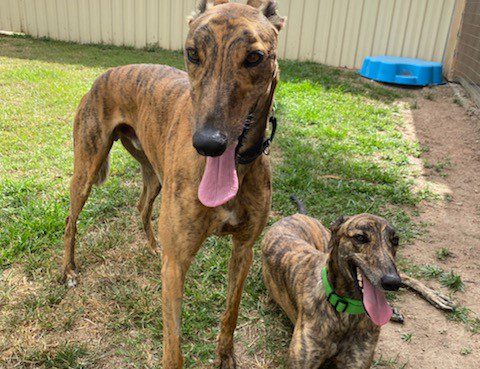 Race name
Panel (Pickles) Miss Empire (Jess)
Meet Pickles & Jess, GAP's Mr & Mrs. Smith.
Pickles and Jess fell in love when they first laid eyes on each other. As kennel buddies, their romance blossomed, and they have been inseparable since.
Pickles is a very calm laid back young man who loves to go for walks and enjoys paddling in the pool, he is a quiet fellow who really enjoys the company of other dogs and humans. He loves being brushed. He is certainly not the boss in this relationship and will let cheeky Jess have the most comfortable bed or the best toy without any fuss.
Jess is the more outgoing of the two and adores chasing the Kong ball, and she will stick to you like glue. She is super smoochy and just melts when she gets her beloved ear scratches.
Both Pickles and Jess enjoy the outdoors and love to walk along the beach. They walk very well on lead together.
Date of birth: Pickles 24/1/2018
Date of birth:    Jess 26/3/2019
If you are interested in adopting Pickles and Jess, submit an adoption application form and our adoption officer will contact you to discuss your family's requirements and match you to your GAP greyhound.
Our greyhounds are not tested with cats, livestock, or poultry. If you have a home with these, please contact us and we will match you with the right greyhound for your circumstances.