Rousey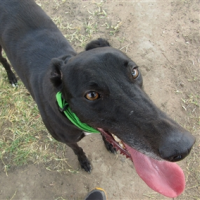 Rouseys' big brown eyes are very good at asking for treats! Rousey is a young, energetic and playful girl. Although she can be a little shy at first, when she gets to know you she will begin to show her cheeky side. Her ideal home would have older kids as she has lots of energy and is ready to do some zoomies.
If you are interested in adopting a GAP greyhound, please complete the adoption application form.
Our dogs are not tested  with cats, livestock or poultry. If you have any of these, please contact us and we will match you with the right greyhound for your circumstances.