Tommy – adoption applications now open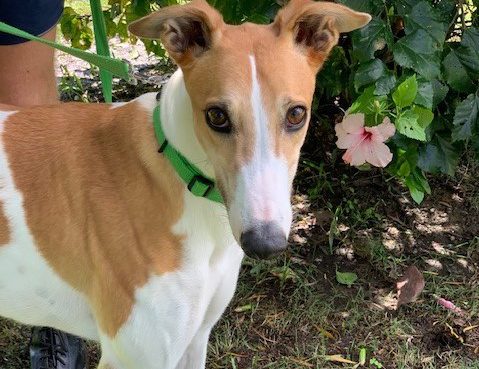 Tommy – adoption applications now open
Tommy has spent some time with the GAP team learning how to be calm and polite when interacting with people and dogs. He has been a very good student and learnt a lot so he would appreciate a home where he is reminded of his newfound knowledge. He comes with his own harness to encourage calm walking. Tommy is a confident boy who enjoys chasing toys but finds the game boring when the toys stop. He enjoys pats, cuddles, and attention from anyone who is willing to give it to him, and your reward is seeing the joy in his face and the happy bounce that comes from his body. As Tommy can struggle to keep his excitement and bouncing under control sometimes, he is best suited to a home without small children. If you are looking for a vibrant greyhound who will bring you joy then Tommy is the boy for you!
More information is available on the adoption process and if you are interested in adopting Tommy submit an adoption application form and our adoptions officer will contact you to discuss your family's requirements and match you to your GAP greyhound.
Our greyhounds are not tested with cats, livestock, or poultry. If you have a home with these, please contact us and we will match you with the right greyhound for your circumstances.