Tommy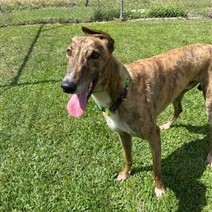 Tommy is a big loveable boy who just loves to play. Tommy's favourite thing to do is to play ball, he will run after it over and over again, and if it squeaks, he loves it even more. Tommy has been in foster care for the past three weeks learning his manners and mastering his lead walking, and Tommy's foster family say he is an easy dog to look after. He is happy with one good walk a day and then back to play with his toys. He is happy to be by himself during the day but he adores being inside, lying by their feet in the evening. He is a quick learner but can get a little excited at times so is best suited to a family with older children 12 years upwards.
If you are interested in adopting a GAP greyhound, please complete the adoption application form.
Our dogs are not tested with cats, livestock or poultry. If you have a home with these, please contact us and we will match you with the right greyhound for your circumstances.