Tony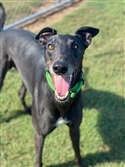 Tony is a pretty cool dude and loves being centre of attention. He loves his toys, people, ear scratches, splashing in a clam shell, digging in a sandpit and sleeping. Tony would be happy to be an only dog or live with a friendly medium-large sized dog. Tony is still learning boundaries and the rule on playing. He walks well on a lead with a harness as he gets excited to meet new friends.
If you are interested in adopting a GAP greyhound, please complete the adoption application form.
Our dogs are not tested with cats, livestock or poultry. If you have a home with these, please contact us and we will match you with the right greyhound for your circumstances.