Venus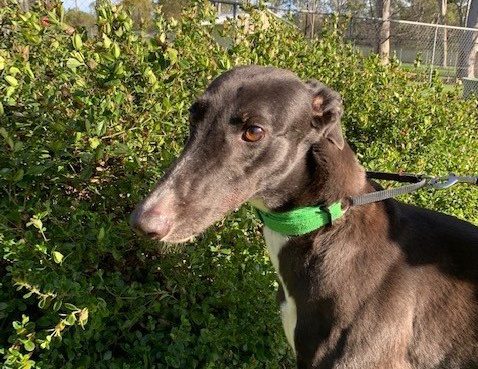 Venus – ready to find her new home.
Venus loves to explore!
Like a lot of greyhounds, Venus' initial meeting and greeting manners leave a little room for improvement; she can get a bit excited, and comes on a little strong and pushy, which can make a bad first impression! Post that, though, she loses interest and will do her own thing.
Venus doesn't mind a bit of a play with a toy (although getting out for a walk and exploring sits higher on her list of priorities) and she likes to have a bit of chase and smack her feet around if you drag the toy on the ground for her to follow.
Venus is not ready to live life in the slow lane; she loves her brisk walks and is super curious about her surroundings.
Venus is quite an independent girl, who is often more than happy to head off and do her own things. She loves to explore; she loves sniffing about and checking out her surroundings.
Venus' retirement home needs to have a decent fenced yard and no other pets; she may be suitable to live with kids aged over 8 years old.
If you are interested in adopting Venus submit an adoption, please an adoption application form and our adoption officer will contact you to discuss your family's requirements and match you to your GAP greyhound.
Venus may be matched to her retirement home, however, greyhounds can be at different stages in their development as they transition to pet life.  The greyhound that is perfect for your family might take some time to find. Please complete an application form we will work hard to find the right GAP greyhound for you. More information is available on the adoption process.
Our greyhounds are not tested with cats, livestock, or poultry. If you have a home with these, please contact us and we will match you with the right greyhound for your circumstances.