GAP opens its doors to the public this Greyhound National Adoption Day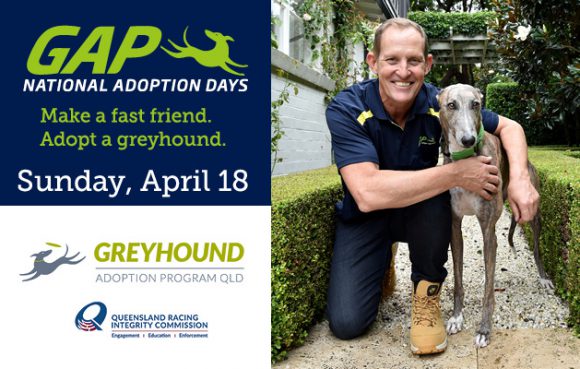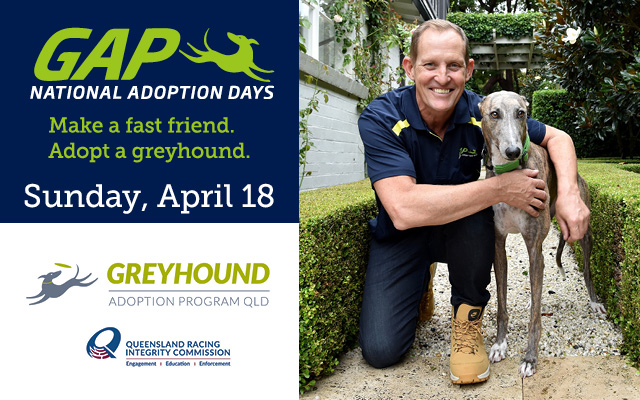 Greyhound Adoption Program Queensland (GAP) will host the 2021 GAP Greyhound National Adoption and Open Day this Sunday 18 April 2021 at its South East Queensland GAP facility at Churchable.
Award winning and critically acclaimed performer, Todd McKenney is again the Greyhound National Adoption Day ambassador, with Todd having his own GAP greyhounds, Nancy Hayes and Joey.
This year the Queensland Racing Integrity Commission GAP is throwing open its doors to show off their facility including the GAP learning space, veterinary surgery, the kennels and the free run space. The GAP team will be available to answer questions about the adoption and foster process, general greyhound behaviour and their medical needs.
Acting Racing Integrity Commissioner Mark Ainsworth said this Greyhound National Adoption Day will be a great opportunity for attendees who have a preapproved adoption application to meet and adopt a greyhound on the day.
This year we have asked potential new owners to pre-register their details and on Sunday they will have the chance to meet the GAP staff, tour the facility and receive individual attention as they adopt their greyhound," he said.
"When matching our greyhounds, the team considers several factors including a family's lifestyle, regular activities, children, other pets and the home environment.
Adoption Day is part of National Greyhound Adoption month, where throughout the month of April GAP programs around the country promote the benefits of owning a greyhound.
GAP QLD works with the Greyhound Racing industry to rehome as many retired canine athletes as possible as a key QRIC animal welfare initiative.
To keep everyone COVID safe on Sunday, tours of the GAP facility must be pre-booked. Tour bookings can be made here.
For more information contact the GAP team on 1300 087 021 or visit gapqld.com.au to find your greyhound.
ENDS.

Media contact Kaitlyn Winn 0467 955 412