Greyt Greyhound Walk – Springfield, Spring Lake Park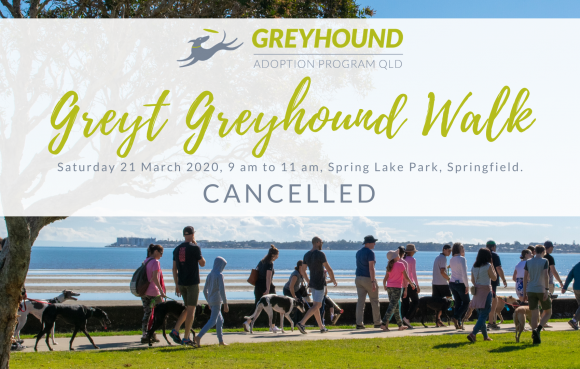 EVENT CANCELLED
Join the Greyhound Adoption Program's Greyt Greyhound Walk on Saturday 21 March 2020 9am to 11am at Spring Lake Park, Springfield.
Frequently Asked Questions 
What should I bring?
Your greyhound's collar, lead, some plastic bags to clean up after them and water bowl. For yourself, bring a hat, sunscreen and a water bottle.
 Can I bring my other breed of dog?
If your greyhound has canine brother or sister, you are most welcome to bring them with your greyhound.
 Don't have a greyhound (yet)?
Come along and chat with our friendly team. Meet our GAP greyhounds. Learn how you can become a GAP foster carer. Meet other greyhound owners.
For more information, phone 1300 087 021.